Findings Overview
A growing investment
An overview of the 2004-05 report findings
Highlights:
Every dollar spent by UC Santa Cruz grows to return more than $1.60 in Santa Cruz County.
Every State dollar invested in UC Santa Cruz—when combined with student fees and other University resources—generated $6.50 in economic activity within the local community.
UC Santa Cruz contributed at least $960 million to the local economy.
UC Santa Cruz is the largest employer in Santa Cruz County.
UC Santa Cruz economic activity generated an additional 9,565 local jobs in 2004-05.
Bringing resources into the community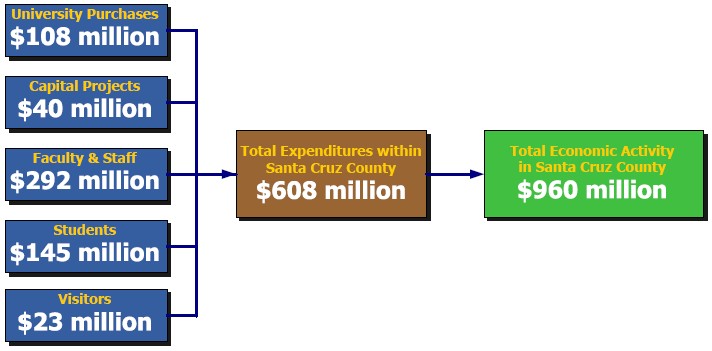 UC Santa Cruz 2004-05 Economic Contribution
The University of California, Santa Cruz, is celebrating its 40th year of existence.  With a primary mission to educate California's citizenry and to operate as a national center for research to solve real-world problems, UC Santa Cruz draws nearly all of its funding from outside Santa Cruz County.  Yet, the campus spends seven out of every ten dollars it receives in the local economy.  The bottom line: UC Santa Cruz contributes $960 million in economic activity within Santa Cruz County which creates over 9,500 additional jobs for local residents.
In its first 40 years, UCSC has been, through its direct spending, an engine for positive economic growth in the Santa Cruz County region.  From the community's perspective, however, equally important is the economic benefit derived from the knowledge and discoveries that result from campus research and academic excellence.  The campus attracts top faculty and talented students to its beautiful setting and, for example, the educational excellence and leadership of UCSC is recognized by U.S. News & World Report, which ranked UCSC in the top 20% of national universities in 2006.  The campus faculty includes two of the University of California's honored University Professors, twenty four members of the American Academy of Arts and Sciences, thirteen members of the National Academy of Sciences and two members of the Institute of Medicine.
Spending and re-spending in the local economy
UCSC fuels the local economy through its purchases of supplies and materials and its construction, as well as through spending by households with members employed as faculty and staff at the University. Student and visitor spending associated with the University also accounts for substantial impact to area retailers and restaurants.
The full impact of UCSC spending on the Santa Cruz County regional economy is greater than the total of the University's direct spending on salaries and wages, goods and services, and construction. This is because money spent by the University and its students and employees in the local community is spent again by the local businesses and individuals receiving these dollars. In effect, the original dollars are spent and re-spent, creating a "multiplier" effect in the Santa Cruz County economy.
Direct spending by the University and its employees, students, and visitors totaled $608 million. When calculated using an economic impact modeling system, the total jumps to $960 million. The economic multiplier is a concept used by economists to measure not just the actual dollars spent, but the value of those dollars when they are spent again. In essence, the economic multiplier shows the ripple effect of each dollar spent in an economy.
Direct University spending within the county for supplies, equipment, and services—including on-campus housing and food services—totaled $108 million; local awards for construction projects and local construction labor hired by out-of-county contractors was valued at $40 million.
Purchases made by University employees play a major role in the economic vitality of the community. Because the majority of the campus's budget is supplied by out-of-county sources, the income spent by University employees is nearly all new to the local economy. In 2004-05, UCSC faculty, staff, and their immediate families spent an estimated $292 million (over three-quarters of their earnings) on purchases and services within the county.
(The campus's fiscal year runs from July 1 through June 30. The 2004-05 totals are the most current figures available.)
Likewise, student expenditures translate into new spending within the local economy. Disposable student income (after payment of university fees) totaled $145 million spent within county borders.
The campus also attracts thousands of visitors each year—prospective students and their parents; guests of faculty, staff, and students; summer session students; and others attending special events. These visitors spent $23 million in the local area.
Beyond economic contributions
A key economic engine in the Santa Cruz region, UC Santa Cruz's distinction as a major research university with an uncommon commitment to teaching and public service helps create a unique place to live and work. The campus brings world-renowned attractions to the region and is a contributor to the cultural richness and the quality of life prized by local residents.
Because of its national reputation for excellence and a quality that attracts external funding and innovative partnerships, the campus helps draw to the local region talented individuals who make intellectual, educational, research, cultural, and service contributions.